This is a painting of the River Gryffe in Scotland. I visited our "homeland" of Houston, Scotland a couple of years ago, and we stayed at a B&B that was right off the River Gryffe. We were there in July so it wan't quite this cold, but they had a photo of the river in winter on their Facebook page that I loved and had to paint.
This one is unique because I've been experimenting with using much more of a limited palette. There are only three colors in the whole things and it's just white, transparent red oxide, and ultramarine blue. It's crazy how much of a color range you can get from just a red and blue.
Here's a painting of a boat that's out of water on St. Simons Island. In the Gascoigne Bluff area of the island there's an spot that's basically a parking lot where a number of boats are out of water and waiting to get back in. I painted this while visiting and finished it at our little rental house.
The canopy of trees in this area makes for the most amazing light dapples, and it was almost dizzying to try and translate it into paint. The light moves around constantly, almost like an organic disco ball, and it was so fun to paint.
This painting features a view of the fountain at Barnsley Gardens outside of Adairsville, GA. I've done a few from Barnsley in the past, and this fountain is in the formal gardens near the old manor. If I remember correctly, the whole estate fell into disrepair after the house burnt down and all of the gardens were essentially lost. So the boxwoods and shrubs just overgrew everything and I'm guessing this guy was hidden amongst all of that for years.
On this particular painting I was really trying to explore a more unified color palette and then make it all about the warms and the cools of the light on the fountain. I find myself time and time again trying to be too literal with the color and this was an attempt at conveying the feeling of the scene vs. the reality.
Here's a Plein Air piece from St. Simons Island. On the East Beach side of the island there are paths to the beach, but this particular one by 4th Street seemed to have been forgotten. I walked for a while trying to find the coast before deciding this view would work just fine.
This was painted in early spring and the weather and scene were so nice. It was remarkably quiet that day and I don't think I saw a single person the whole time. I find it so much easier to get in the zone when it's quiet and peaceful like that.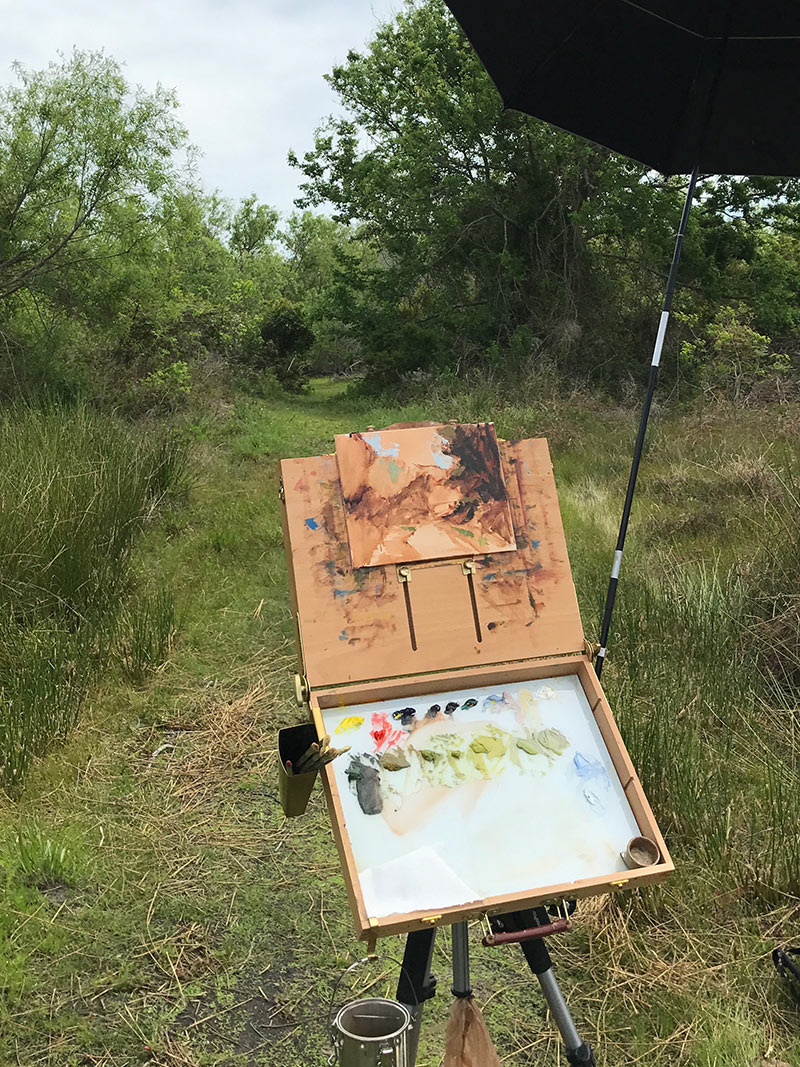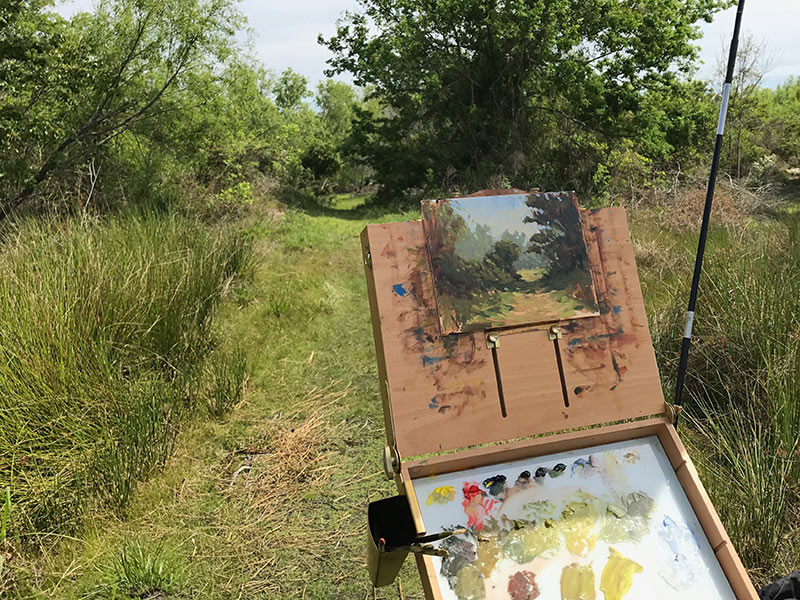 Here's a Plein Air piece featuring a field near Duluth, GA. It was painted as part of the Paint Duluth event in 2017. The odd thing about Plein Air events is that when the sun comes up you just go paint. There are really only two full days to paint and you've got to get out and make the most of the time.
The weather was threatening rain all day but I got my gear together and proceeded to try and get something in. Out of nowhere the clouds parted and for a nice two hour window it was just perfect painting weather. So I was literally trying to make hay while the sun shined.
This was one of those moments too where things just clicked. I had been working like crazy on painting in the months leading up to this and it was so refreshing to be able to let it flow out and onto the canvas.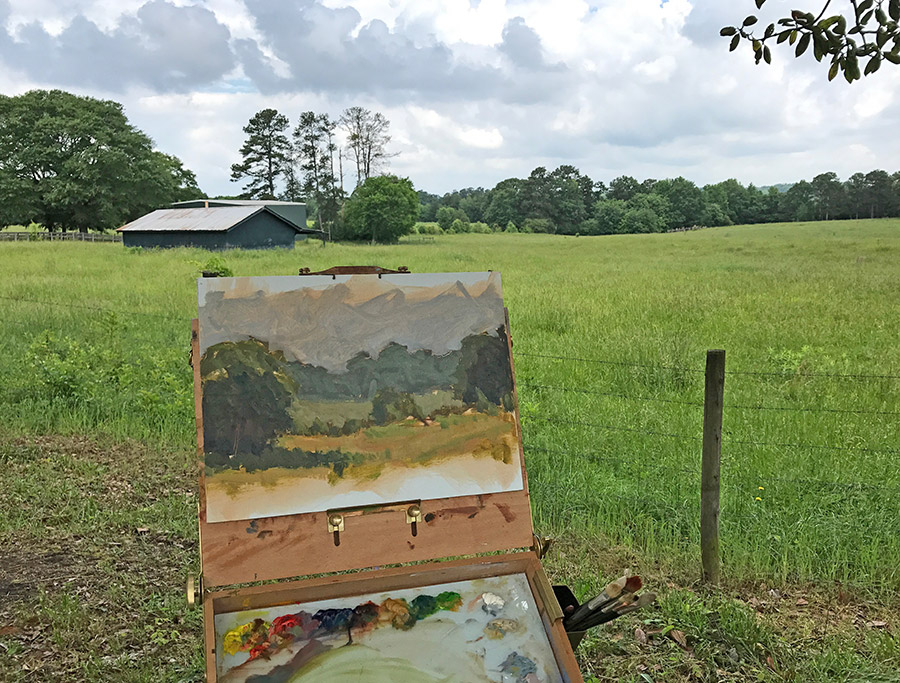 Here's a view of the painting in progress. I had stamped a 12″ x 16″ linen panel, but when I saw the view I felt like doing a strong horizontal would work better. So I focused on the middle, knowing that I'd trim off the top and bottom.
I was in England a couple of years ago and we spent a good bit of time in the Cotswolds. We stayed near the Minchinhampton Common which is managed by the National Trust, and one wild feature of that area is that the cows go wherever they want. Hundreds of years ago, as the story goes, the commoners negotiated the ability to graze their cattle on the land and it's a right that the locals have held onto since then.
There are countless footpaths in that area and I met this guy while on a walk. I painted this a few times but ended up editing out some of the other cows to make the overall composition stronger. I love the way the cow emerges from the shadows and faces the light.
Here's a painting of a barn not too far from where we live. I had every intention of painting this on-site but it was so incredibly windy that there was no way to make it happen. I'm talking a "blow your easel over immediately" type of day, so I grabbed some photos and worked on this a few times in the studio.
This particular painting was fun because of the leafless trees in the back. The light was really hitting those but because it's essentially a bunch of twigs from 200 feet away you have to view it as a mass. To achieve the transparency and luminous look of the branches I used a warm underpainting and then painted the sky around the underpainting.
This painting is of a Waffle House, #127 to be specific. My family took a trip to Bald Head Island last summer and stopped outside of Columbia, SC to refuel and get a bite to eat. This beauty was right by where we stopped. I love painting Waffle Houses (what is the plural of Waffle House BTW?) This one in particular features some pretty thick paint. I'm trying to stay loose and keep things painterly.
Man, it's good to be back. It's hard to believe that the last time I really posted on this site was over two years ago. That's crazy! I've been doing a lot of painting and it's time to get back in the groove. My goal is to post a new painting each week. So no more 100 per year (whew) but I'm still gonna stay in the groove.
I had a few other chicken shots from 2011 and wanted to try this guy. I loved painting the high key colors on this one. The colors looks crazy if you focus on them but it works (I hope) as a whole.
Well, this is it for 2015. Another 100 in the books. I'm going to take a week off and then try to keep on painting. I feel like I feel like I've learned so much over the last 45 days and don't want to lose that momentum. Happy new year!!!
I was running out of gas with the cows and saw this orange at our local grocery store. The orange color on this was so intense that I had a hard time mixing a color that was accurate.